M.P.P. User's Club - Information
The club is the world authority on cameras and photographic equipment manufactured by the former British company Micro Precison Products Limited of Kingston-on-Thames and Wandsworth, London, England.
Founded in 1995, the objectives of the club are to foster the use of MPP cameras and other photographic products and membership is open to all who own, use or just collect MPP products.
It is small single interest club based in England, run by a group of enthusiasts both professional and amateur, who give their time freely for the benefit of fellow members.
The club seeks to encourage the interchange of information between members by publishing a magazine called the 'Newsletter' (formerly The Gazette) at regular intervals throughout the year in which are articles submitted by club members. It features all aspects of M.P.P. products from design, technical and repair issues to the practical everyday use of them. In addition, historical matters are published relating to both the products and the company that manufactured them, Micro Precision Products Ltd.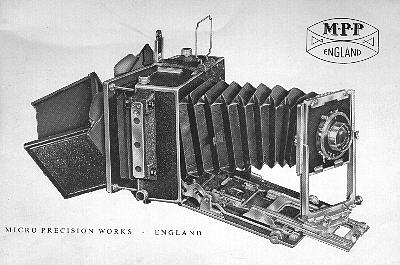 A page from a Mk VII MicroTechnical Handbook
Since Micro Precision Products Ltd. ceased business in 1988 the club has gathered historical information and technical expertise and certain members are able to offer advice on the repair and maintenance of cameras and equipment. In addition we stock a range of replica lens boards for the Micro Technical cameras. These are available to members at favourable prices.
Membership is renewable annually. Members living in other countries pay a slightly higher subscription than UK residents which reflects any exchange rate differences and the higher cost of postage of the Newsletter magazine.
The Annual General Meeting is held usually each April and is a platform for members to put forward ideas as well as elect the governing committee for the year ahead.
If you own, use or just collect M.P.P. photographic products then this is the club for you.
Please note that the Club is not able to provide valuations.
There is more information about M.P.P. cameras together with technical and repair information included in the Members section of this web-site. A good reason to join the Club.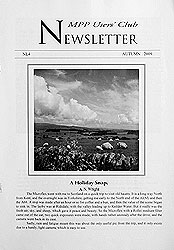 Members' Area
The "Members' Area" of the site contains a lot of information relating to:
♦ M.P.P. Product Information
Cameras, Tripods, Carrying Cases, Roll Film Backs ..... all M.P.P. equipment
♦ Technical Information
Service and repair of cameras, making replacement parts, magnification tables and lots more.
♦ Archives
Original issues of the GAZ - the original Newsletter - full of information.
---
To gain access to the Members' Area you will need to join the club.
With membership comes a regular free Newsletter packed full of articles relating to M.P.P. equipment, its use or repair.
Club Magazine - The Gazette and Newsletter
"The Gazette" latterly known as "The Gaz" was the in-house magazine and was produced quarterly until 2009.
It has now been superseded by the "M.P.P. Users' Club Newsletter" (NL). Generally publication is aimed for January, April, July and October.
Content ranges from technical matters to the every day use of M.P.P. products. There are regular features on members' use of equipment. Tips on improving performance and reliability, as well as fitting and using accessories and gadgets made by other firms such as Polaroid and Wray. The use and fitting of unusual lenses to the large format cameras has always been a popular subject.
There is considerable interest in the historical aspects of the company that produced so many well engineered British products many of which are still in use every day by professional and amateurs alike. Also much research has been carried out on many subjects, the results of which are published. This continues.
The why and wherefore of every detail including seeking new information to update the club's records and archives is always of considerable interest to many readers of the Newsletter.
Club members are encouraged to take an active role in obtaining facts and figures in order that they can be published in future editions of the magazine for the benefit of all.
Now Available
The original GAZ magazines from 1995 onwards have been reproduced in the Members' Area . These magazines contain a wealth of articles, advice and photographs all relating to M.P.P. cameras. Very interesting.

Enjoy!